If we could erase one year from recent history, 2020 would be a primary candidate for many of us. As we celebrate the arrival of 2021 and the anticipation of a fresh start, we should remember that every change comes through effort. This holds true in any field – including healthcare.
No matter if your practice needs to bounce back after a tough year or your New Year's resolution is simply to grow your healthcare business stronger then ever, patient acquisition should be your top consideration.
Just remember, it's 2021. You'll need more than just a website and a Business Facebook page to meet your new marketing goals. Take a look at the following three essential insights into attracting more patients this year.
#1 Build Credibility to Earn Patient Trust
In these tumultuous times, everyone's looking for stability. Physicians in particular, are expected to be dependable. As patients need reassurance more than ever, reliability, credibility, and confidence become the key messaging that you should be amplifying in all of your marketing communications.
All eyes on safety
First and foremost, make it explicit that your facility is safe. You spare no effort to ensure the highest safety standards, so make sure everyone knows about it!
Many major hospitals, such as the University of Michigan health centers, share their safety measures with the public to show that protecting patients is their top priority. You too, can list the safety precautions on your website and feature them in a social media post, e.g., as a useful infographic published on Pinterest or Instagram. Just take a look at what this Asian hospital did (found on Pinterest):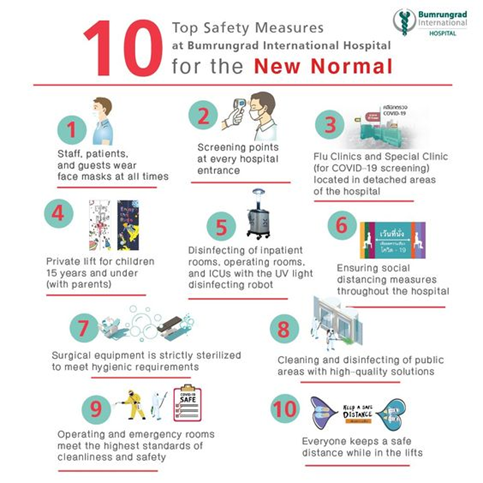 This hospital takes safety seriously and isn't afraid to show it
Meet the team
Your website is also a great place to bring patients closer to your specialists. Presenting MDs' and nurses' profiles and photos on the "About us" subpage reinforces your facility's credibility and creates a sense of familiarity among patients. Apart from establishing a positive, friendly image of your business, "Meet the Team" pages also showcase your medical team's expertise.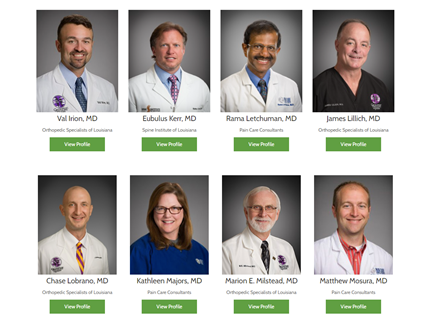 Meet the physician team of Specialist Hospital Shreveport
Make your business visible
You can also ask your doctors to join physician registries such as WebMD. These online tools come in handy, as they allow patients to find and compare healthcare specialists in their area.
Other platforms like Yelp, are focused on user reviews and can have a decisive impact on patient choices. A study conducted by NRC Health reveals that 60% of patients have opted for a specific medical business and avoided one based on online opinions!
#2 Step Up Your Social Media Presence (And Be Bold!)
In 2021, a social media presence is non-negotiable for any medical business. And yes, were sorry to say it but simply creating a Facebook account won't cut it. To engage your patients through digital channels, you'll need a strategic approach.
As a rule of thumb, you should post regularly and keep your updates short. Avoid using medical jargon unless you're targeting professionals. And always remember that your content needs to be relevant for your audience, and not yourself.
Remember that each social medium serves a different purpose and needs a different content strategy. Here are some platform-specific tips:
Facebook — due to its popularity and reach (

2.7 billion monthly active users

!), Facebook is the best place to address the general audience and share varied types of content. Leverage your expertise with articles and other assets that teach, inform, entertain, and inspire; post behind-the-scenes updates about your company; kick-off follower participation with a live broadcast, short videos, stories, and direct questions.
St. Jude Children's Research Hospital's fan page

combines all these tactics in frequent posts that share patient stories, celebrate the hospital's achievements, and engage the community.



St. Jude

certainly knows how to use social channels to build a good rapport with patients
LinkedIn — created for business, LinkedIn can be used to strengthen your facility's professional image and promote your healthcare services. In addition to posting specialist content, you can participate in discussions, join interest groups, and even set up your group and invite members. All of that helps you connect with fellow doctors and medical staff – as well as with patients. Networking on LinkedIn is a failproof way to gain visibility and market your practice or hospital.
Twitter

— with its brief post format, Twitter makes it easy to prompt discussion and interact with your patients. It is also the tool of choice for fast communication like quick updates or company announcements and collecting feedback with questions and polls. Healthcare-related hashtags will help you extend the reach of your tweets and target your desired audience. But don't overdo them — two to three hashtags per tweet are enough.
#3 Try Something New to Engage More Patients
Is there any better time to explore new opportunities than now? Some new methods for increasing patient acquisition may require a small mindset shift.
We've talked about social media, but one platform is rarely associated with healthcare marketing: TikTok. That's right — the TikTok doctor is no longer alone, as more and more physicians use the latest social craze to educate and entertain. This strategy can prove particularly useful in appealing to Millennials and Gen Z patients.
Lastly, if you have a knack for writing, consider pitching guest content to healthcare blogs and online health-focus magazines for non-medical audiences. Publishing with these sites will generate publicity for your medical business and help you establish authority among the patient community.
Get more patients in 2021!
A New Year is the perfect time to make bold plans — as long as you know where to start. Now that you've learned new ways to acquire new patients and win their trust, it's up to you to put these strategies into action and make 2021 a stellar year for your healthcare business.
I know what your thinking, I'm too busy to implement this and as it is now, I don't even have enough staff to pickup my patient calls. No need to fear, our medical call answering services can help you with all of your patient calls, schedule and book appointments for your patients directly in EPIC and relay emergency calls to the appropriate o/c personnel. This will allow you (or your more connected staff) the time to accommodate these important tasks. Give them a try, they will work!
Good luck!