In our last post, we've covered the essential questions healthcare providers should ask patients to improve their services. This time, we will dive into the most effective channels to collect patient feedback and stay on top of your patient's expectations.
#1 Review Websites
With so many options in todays world, customers often take to the internet to make informed decisions. Healthcare is no different. Checking your practice's reviews on websites such as Google, Healthgrades or Vitals is a reliable resources for anyone looking to understand what their patients are saying about their facility.
Some may question the reliability of these sites making the argument that they mostly serve people who want to rant and blow off steam. This is certainly true in some cases however in todays world, perception is reality. So having poor reviews without having positive reviews to overshadow them makes new patients think twice about doing business with your facility. Additionally, studies show that hospitals that receive high ratings at Yelp tend to demonstrate the lowest 30-day readmission rates, a metric that is a dependable indicator of quality. And if you are concerned that people base their ratings primarily on price, it has been proved that Yelp users put quality above cost when it comes to healthcare services.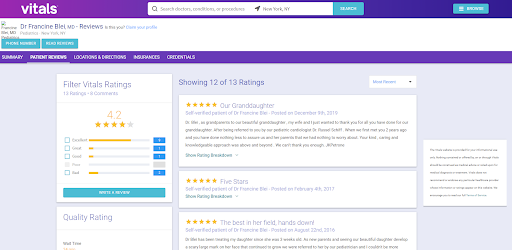 Vitals, Healthgrades, and RateMDs are among the most influential healthcare reputation sites

Encouraging your patients to leave reviews on websites such as Yelp or Google is an effective method for building an image of a trustworthy business. Use rating platforms to your advantage by monitoring reviews, keeping your information in your profile updated, and actively responding to any negative comments that do get posted. Responding to negative comments is important because 66% of patients admit that response is 'very important' or 'moderately important'). We all know that facing critique is difficult, especially publicly. However think of it as a way to show all readers that you care about your patients and that you are willing to take responsibility (if warranted) and improve.
#2 Social Media
Given that 69% of Americans use Facebook, 37% have an Instagram account, and 22% are present on Twitter, it is safe to say that social media is the definitive communication channel. These and other popular platforms constitute an essential online space where you can promote your services, interact with your patients, and let them share their opinions.
The global Ramsay Health Care hospital group serves as an excellent example of how various social media platforms can be used to engage patients meaningfully. Regular Twitter and Linkedin posts build a positive and professional image of the organization. In addition, each of the Group's facilities have a dedicated Facebook page, where patients can post reviews and share concerns regarding a particular clinic. Note that the hospital staff takes time to respond to every single comment, in line with customer service best practices.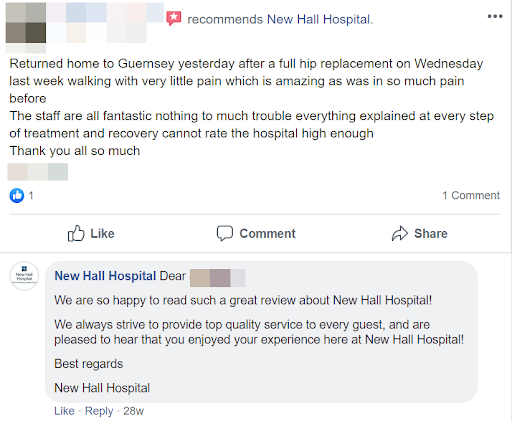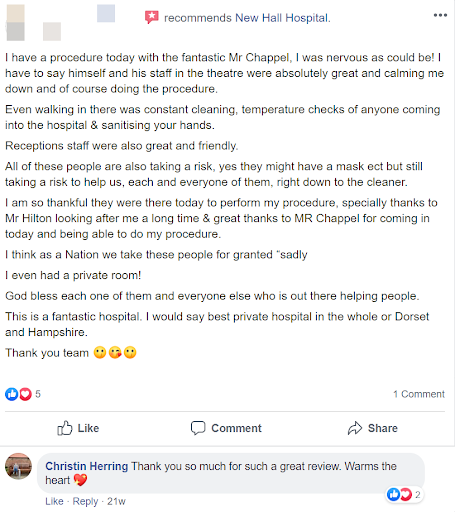 #3 Online Forms
Online forms are a simple and effective method to measure customer satisfaction, handle help requests, and identify potential areas to improve. These on-site surveys are easy to implement and patients can access them at any time. You can use them to ask additional questions and get more precise info or find where your business could use improvements.
Look at The Mayo Clinic for example. The hospital form shows how by including basic questions — e.g., the preferred method of contact and the reason for contact — can ensure better patient experience and more effective management of the issue.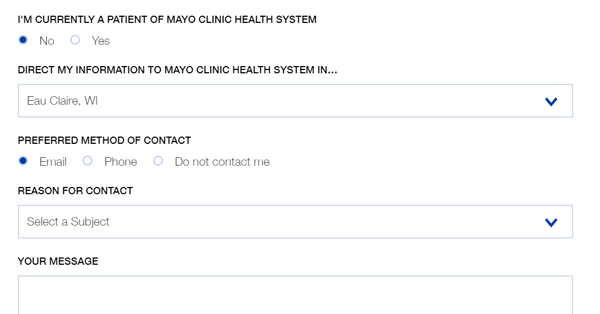 The Mayo Clinic's patient contact form
To achieve a higher response rate and reliable results, make sure the form is accessible and easy to find. Place it in the contact or FAQ sections, at the bottom of the page or in a non-intrusive pop-up window. Remember that some respondents may need a little encouragement to share their opinions. In order get them to contribute, keep the form concise, and explain why their feedback matters.
#4 Text Messages
Text messages can be a much more efficient tool than printed satisfaction surveys. A text message-based solution is accessible and elicits quick, on-the-spot responses that are easily quantifiable. It also makes it simpler to reach out to dissatisfied patients, effectively reducing the number of negative reviews and increasing retention.
Consider PromptMD, for example. The urgent care provider from New Jersey has tried various ways to get patients' opinions and to gather more online feedback with little effect. However, the implementation of a more patient convenience-oriented text message survey system brought spectacular results: 36.8% of patients responded, and the switch yielded 800 new online reviews. The new system also helped PromptMD staff to quickly contact unhappy patients to ask them about improvements they would like to see.
#5 Dedicated Patient Portals
In addition to external channels to gather patient feedback, you can set up your own in the form of a patient portal. These platforms include multiple functionalities, such as scheduling, electronic health record, messaging, or notifications, all conveniently gathered in one place for patients to use.
In a study published by the Journal of Medical Internet Research, patients admitted that having all-time access to visit notes, prescriptions, and test results gave them more control over their health. Some of them stated that the ability to report medical concerns and give feedback made them feel more secure and connected with their physician.
Indeed, patient portals ease communication with the provider. Several respondents explained that, more often than not, they would be unwilling to discuss customer service issues in the presence of their doctor. Others said that they are too nervous or distracted during the visit to even notice that something went wrong. With patient portals, doctors can upload medical notes to the system, making them available for review and comment later.
Closing Thoughts
The ability to recognize and adapt to customer's needs is vital for all long term business strategies. It's even more critical in the medical setting, where patient health and wellbeing are at stake. Leveraging the channels discussed in this article will facilitate communication between you and your patients and streamline patient engagement. Once you know more about your patient's expectations, you'll be more equipped to adjust your healthcare services and deliver flawless customer experience.